*** UPDATE ***  #10 Madison Stokes and #14 Jesse Wilkening are at the Carpenter Complex.  They are part of a group that is waiting for their medicals to come back before they are signed.  This includes free agents Taylor Lehman and Brian Auerbach.  The 2018 Draft Tracker has been updated.
I also heard that #4 Colton Eastman may go directly to Williamsport if/when he signs.
*******************************************
Thursday, I watched the players we signed from the 2018 Amateur Draft take batting practice.  Some of the guys displayed some power.
Friday, I made it back to the Complex to watch BP again.  Today top pick Alec Bohm was "in da house!".  Later, I returned after lunch (at Legends) to watch an intrasquad game that I expected to be between the two GCL teams.  I was super excited to see both squads peppered with draft picks.
Wednesday, when I wasn't there, the coaches were teasing Logan Simmons (#6) about all the balls that died on the warning track.  They chided him (playfully) that he needed to get into the weight room to get those balls over the fence.  Thursday, he was one of the guys who impressed me with some bombs over the LF fence.  Friday, he unloaded on a pitch and sent it over the LF fence during the intrasquad game.  IMO, he's a guy to keep an eye on.
Logan O'Hoppe (#23) also impressed with a line drive, RBI double to left.  It was notable to me because it came off Grant Dyer.  The RHP is still rehabbing but looks as close to his old self as I've seen him.  O'Hoppe turned on a pitch and pulled it over the third baseman with a resounding "Thwack!".
Let me get to the draft stuff, and I'll include some more observations from the Complex at the bottom of this post.
The 2018 Draft Tracker is as current as I can make it.  Bonus amounts aren't being reported with all signings, so we don't know how much of the Phillies slot money remains.
Yesterday, I reported that the Phillies #7 selection, Gabriel Cotto, signed and was at the Complex.  I also saw Jack Conley (#27), and thought I saw Tyler McKay (#16).  (The table on which he is signing his contract in the picture tweeted looks like a table in a conference room in the Complex building.
Today, I saw Jack Perkins (#11) at the Complex.  He was shagging balls during BP.
I also saw Brandon Ramey (#30) at the Complex.  He was shuttled to an off site location with two non-drafted free agents for a medical evaluation (I suppose, probably an MRI).
I now have 26 confirmed signings, the 20 the Phillies reported plus Pipkin, Cotto, Perkins, McKay, Conley, and Ramey.
Of the remaining picks, I suspect the following –
#4, Colton Eastman – probably haven't been able to agree on an amount
#10, Stokes – still bargaining, SC just finished playing  last weekend
Top ten selections usually have agreements in place before the picks are made.  Stokes is a senior.  These will likely be finalized shortly.  Unless, something showed up during the physical process that was unexpected.
#14, Wilkening – his signing is imminent and might be announced this weekend
#15, Carpenter – now that teammate Ramey is in the fold, he may be the next to sign, commited to Central Arizona
#17, Kilgore – junior reliever at Wichita State, likely to sign, but I've heard nothing
#21, Jake Smith – haven't seen or heard anything, commited to UNC-Wilmington
#28, Jonathan Jones – haven't seen or heard anything, 2-sport HS player
#33, Kinney – declined, attending FSU
#37, Rijo – haven't seen or heard anything, juco player commited to Abilene Christian whose head coach just stepped down
#38, Stephen Jones – junior pitcher, haven't seen or heard anything
#39, Nelson – declined, attending FSU
#40, Richardson – juco pitcher, haven't heard anything since he appeared to want to sign on social media, and was seen in Philadelphia
More from today.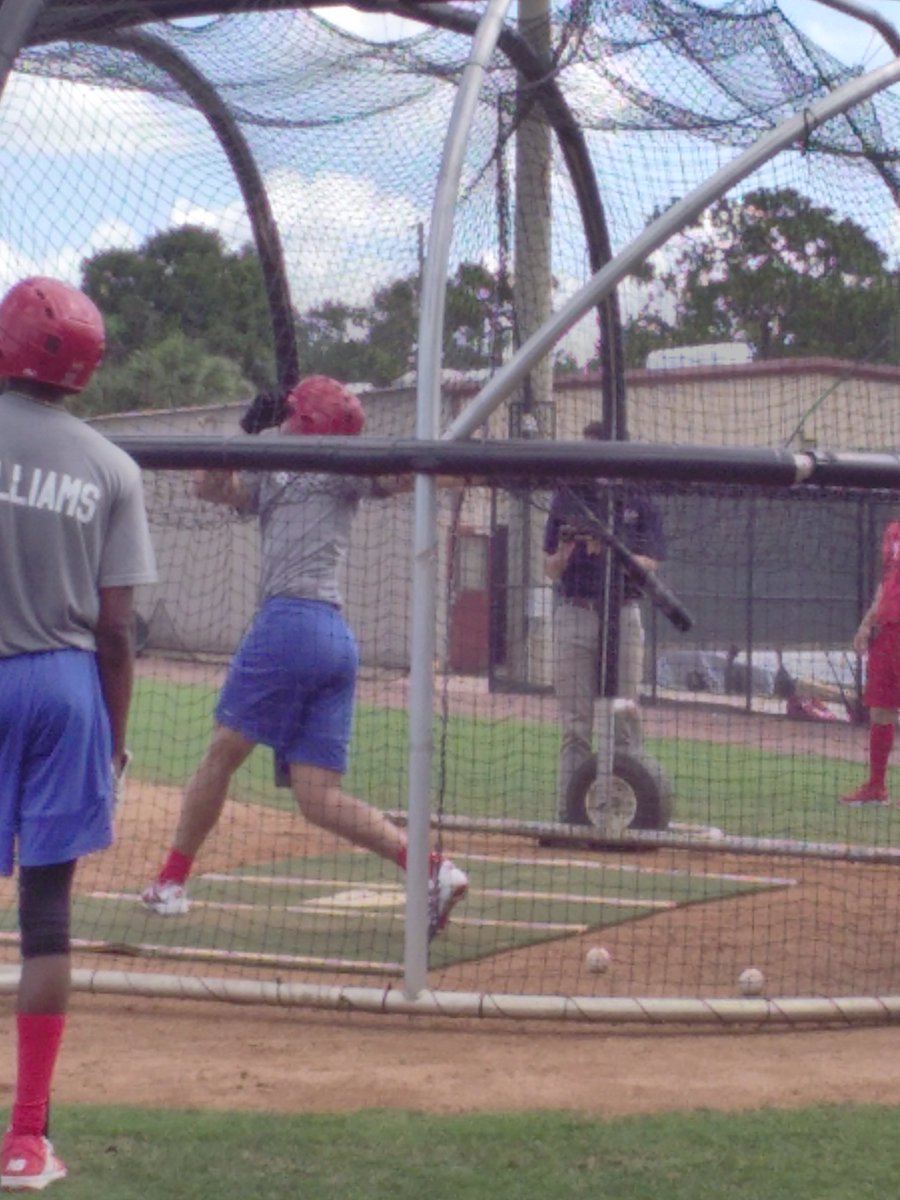 Rixon Wingrove is a big 6'5, 230 lbs, and turned 18 last month.  His size doesn't inhibit his defense as he turned a 3-6-3 double play. After years of RH at first, this is still the first defensive indicator against which I measure any of our first basemen.
The two NDFAs who left and returned with Ramey were named Auerbach and Lehman.
*** UPDATE *** Lehman is Taylor Lehman, a senior LHP from PSU.  He's 6'8, 240 lbs.
*** UPDATE *** Auerbach is Brian Auerbach, senior RHP from Rollins College.  He's 6'4, 190 lbs.
Simon Muzziotti played right field.  Jake Zoellner played first base.  Greg Pickett played first base.  All three look ready to join teams up north.
Dylan Cozens took BP with the new guys.  Roman Quinn didn't.
I will continue posting a 2018 First Year Player Draft thread so we can keep all our draft talk in one place.  This is where I will look for any information on signings you uncover and post in the Comments Section.  If you hear one of our new prospects has signed, please share the link here.
Of course, all draft talk is encouraged here.  I will start new threads if/when the number of comments becomes too unwieldy.