Only two games were played on Sunday.  Reading lost and Jersey Shore won.  Lehigh Valley's game was postponed by their hosts in deference to Daniel Brito's medical situation.  Clearwater was postponed due to COVID-19.  The FSC and DSL do not play on Sundays.
---
Lehigh Valley (34-41) postponed by Rochester out of respect regarding Daniel Brito's medical situation.  I had heard that he went into surgery again on Sunday morning but nothing afterward.

---
Reading (30-48) lost to Somerset, 4-3.  Francisco Morales (2-9, 7.02) missed an opportunity to build a resume that would catch the Phillies'eye in September.  He lasted 3.1 innings and gave up 3 runs on 2 hits and 5 walks.  He struck out four.  Nick Lackney let one of two inherited runners score.  Six Phils' pitchers issued 12 walks and struck out seven.  The Patriots were successful on 7 of 8 steal attempts – 7 for 7 on Morales/Conley, 0 for 1 on Warren/Conley on a pickoff by Conley. 
The Phils scored a run in the fourth inning on Jhailyn Ortiz' solo HR (1). They added a run in the sixth on Josh Stephen's RBI single.  They scored a run in the ninth on Arquimedes Gamboa's solo HR (8).
Jhailyn Ortiz went 3-4 with a walk, HR (1), and RBI.  Bryson Stott (.253) went 2-5with a double.  Josh Stephen (.198) went 2-4 with an RBI.  
---
Jersey Shore (36-42) beat Brooklyn, 4-3.  Tyler McKay (6.31) pitched four innings and gave up 3 runs on 7 hits and 2 walks.  Tom Sutera (2-2, 6.10) got the win with three shutout innings.  Blake Brown (4.05) picked up his fifth save.  Mark Potter (10.80) added a scoreless inning.
The BlueClaws scored twice in the second inning on DJ Stewart's solo HR (9) and Chris Cornelius'game tying sac fly.  The Claws tied the game again in the sixth on Cornelius' RBI single.  They took the lead on McCarthy Tatum's solo HR (2) in the seventh.
Tatum (.389) went 2-3 with a walk and HR (2).  Cornelius (.273) went 2-3 with 2 RBI.
---
Clearwater (37-37) cancelled their remaining games against Fort Myers due to COVID-19.  The Threshers issued the statement below.  They hope to resume games at home against Bradenton (and Abrahan Gutierrez) on Tuesday, August 3rd.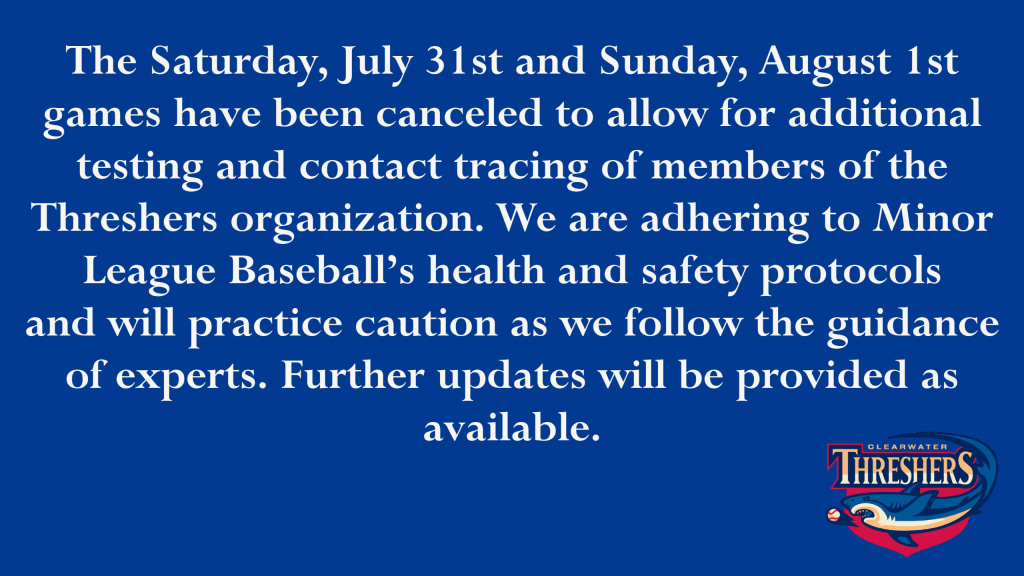 ---
FCL Phillies (10-6) no games are scheduled on Sundays in the FCL.  Monday's game at the Blue Jays has already been cancelled.   Tuesday's at the Complex hasn't been, yet.
---
DSL Phillies Red (6-7) and DSL Phillies White (8-5) no games scheduled on Sundays in the DSL.  Both teams are scheduled on Monday.
---
The Affiliate Scoreboard, the FCL Scoreboard, and the DSL Scoreboard.
---
Transactions
none