Lehigh Valley won behind Eshelman's strong start, Beato's rebound, and Williams' 14th.
Reading pulled away after being tied in the fourth.
Clearwater and the FSL are on their All Star Break, Jose Taveras selected to start.
Lakewood was one-hit for eight innings before Gamboa tied the game in regulation and won it in ten.  Sanchez pitched well, as did Llovera and Hibbs..
Lehigh Valley (44-24) beat Syracuse, 5-2.
Tom Eshelman (5-1, 1.68) pitched another solid game.  He gave up 2 runs on a walk and HR in the fourth inning, but lasted seven innings.  He gave up the 2 runs on 6 hits and a walk. He struck out two and threw 88 pitches, 65 strikes (73.9%).  Eshelman (.400) also had a single in two at bats (as well as a sacrifice).
Hoby Milner (2.60) threw another 1-2-3 inning in the eighth.  Pedro Beato (3.73) rebounded from his Friday night horror show with his 21st save.
Angelo Mora (.500) had another 2-hit game in his second start at AAA.  He also had 2 RBI. Nick Williams hit his 14th HR.
The IronPigs scored first on Pedro Florimon's RBI single (following Eshelman's sac) in the third inning.  After falling behind, they rallied to re-take the lead in the fourth on Rhys Hoskins' SF and Mora's 2-run single.  Williams tacked on a run with a solo HR in the sixth.
Dylan Cozens stole his 4th base of the season.  Williams and Jorge Alfaro drew walks.
#1 Crawford (.194): DNP (groin, possible return Monday)
#3 Alfaro (.268): 1-3 with a run scored, BB
#4 Williams (.273): 1-3 with a run scored, HR (14), RBI (41),BB, K
#6 Quinn (.274): 7-day DL
#9 Cozens (.249): 1-3 with  run scored, BB 
#12 Pivetta (5-0, 1.41): promoted to Phillies
#13 Hoskins (.292): 0-2 with RBI (52), SF, BB, K
#16 Pinto (3-3, 4.65): DNP
#19 Appel (4-2, 5.71): DNP
#24 Lively (6-1, 2.40): promoted to the Phillies
#29 Valentin (.229): 7-day DL
Reading (38-26) beat Binghamton, 7-4.
Tyler Viza (4-4, 5.90) gave up 3 runs (2 ER) in six innings on 5 hits and 3 walks.  He struck out three.  Alexis Rivero (3.22) pitched a 1-2-3 inning.  Victor Arano (1.93) gave up a run in two innings on 3 hits and a walk.
The Phils pulled away from a 3-3 tie in the fourth inning to claim victory.  They took a brief lead with three runs in the third inning on a 2-run double by Andrew Pullin and an RBI single by Carlos Tocci.
After the Ponies tied the3 score in the bottom of the inning, the Phils took the lead for good with 2 runs in the fifth inning on Scott Kingery's 2-run double.  Tyler Viza walked and scored in the inning.  The Phils doubled their lead on Chace Numata's 2-run HR (3) in the eighth inning.
Mitch Walding (.215) suffered through a "Golden Sombrero", 0-4 with 4 K.
#11 Kingery (.308): 3-5 with a run scored, 2 doubles (16), 2 RBI (43), K, SB (17)
#17: El. Garcia: Restricted List,  80-Game suspension
#21 Anderson (5-2, 3.48): DNP
#22: Arano (1.23): DNP
#23 Tocci (.290): 2-4 with a run scored, RBI (23)
#27 Canelo (.237): 1-4 with a run scored, triple, K
Pullin (.314): 1-5 with a run scored, double, 2 RBI (43), 2 K
Clearwater (36-31) All Star Break
# 5 Kilome (3-2, 2.60):
#10 Randolph (.230):
#26 Ed. Garcia (1-1, 4.20):
#28 Pujols (.180):
#30 Seranthony Dominguez (3-0, 2.02): rehabbing a shoulder injury in XST
Lakewood (39-30) beat Hickory, 2-1 in ten innings.  Lakewood needed the victory to remain alive in the first half race.  With a win tomorrow and a Kannapolis loss the BlueClaws will secure the division.
Sixto Sanchez (2.88) went five innings again in his second start after returning from a 4-week visit to the Complex in Clearwater.  He gave up a first-inning run and 5 hits, all singles. He neither walked or struck out any one, but was charged with 2 balks.  Sanchez threw 56 pitches, 47 strikes (83.9%).
Mauricio Llovera (2.18) struck out four in three, 2-hit innings.  He walked one.  Will Hibbs (5-1, 0.98) got the win, retiring all 6 batters he face in two innings, striking out two and walking none.
The BlueClaws were held in check for eight innings by the Texas Rangers 2016 sixth round pick, Kyle Cody.  He held Lakewood to one hit and a walk and struck out eight.  Twice Lakewood batters reached base after striking out (on a WP and an E2T).  Both times they were erased on line drive double plays.  Cody had a game score of 92.
Arquimedes Gamboa (.239) figured prominently in both runs the BlueClaws scored.  He reached base with one out in the ninth on an infield single to short.  He scored the tying run on Raul Rivas' RBI triple.  Mickey Moniak was unable to get Rivas home on what reads like an unsuccessful safety squeeze in the game log.  Nevertheless, the game was tied.
David Martinelli (.233) singled with one out in the tenth.  He moved to second on Luke Williams' single to center.  He scored on Gamboa's 2-out, line drive single to center.  Photo below shows Martinelli avoiding the tag at the plate.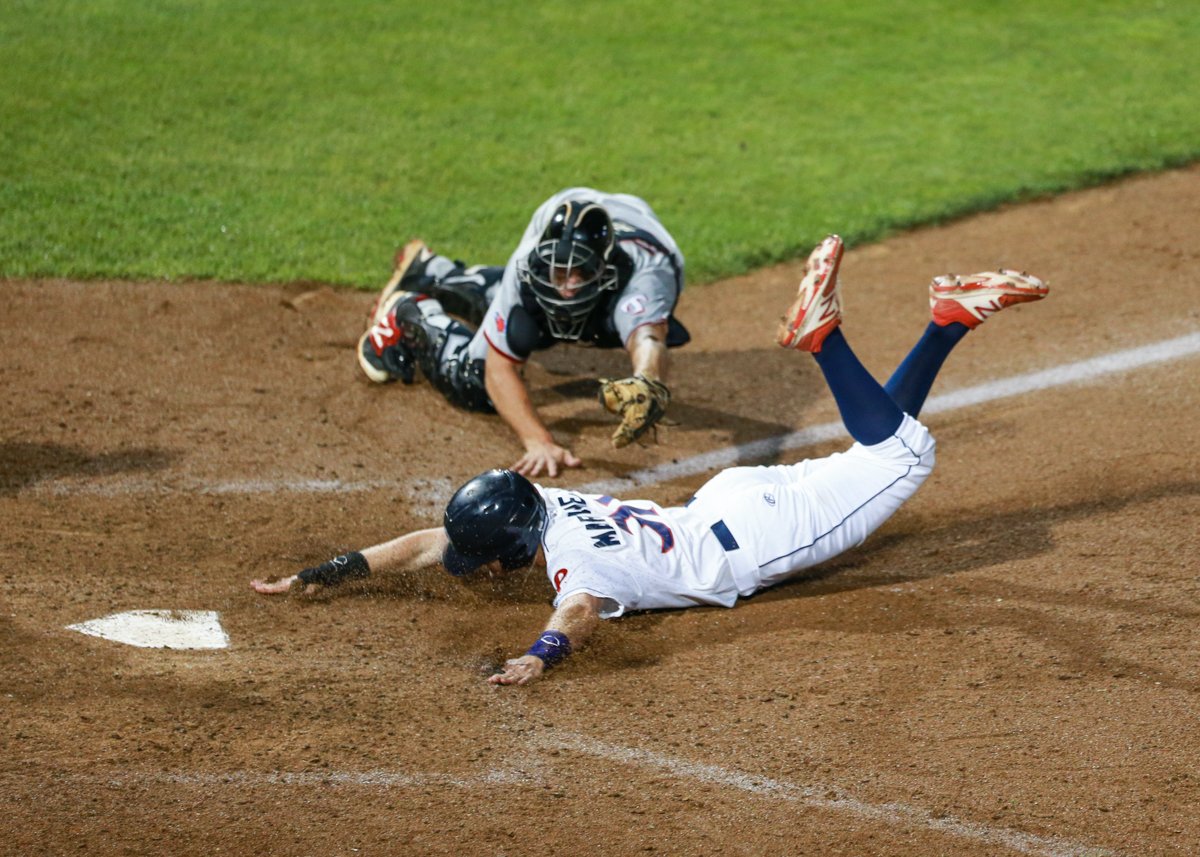 #2 Moniak (.272): 0-4 with a K
#7 Sanchez (2-2, 2.98): 5.0 IP, 5 H, 1 R, 1 ER, 0 BB, 0 K, 56 pitches/47 strikes (83.9%)
#15 Medina (2-5, 3.13): DNP
#18 Brito (.235): DNP
#25 Romero (5-1, 2.01): DNP
Williamsport (0-0) – first game on Monday, June 19th at State College.
The Crosscutters released their Opening Day schedule.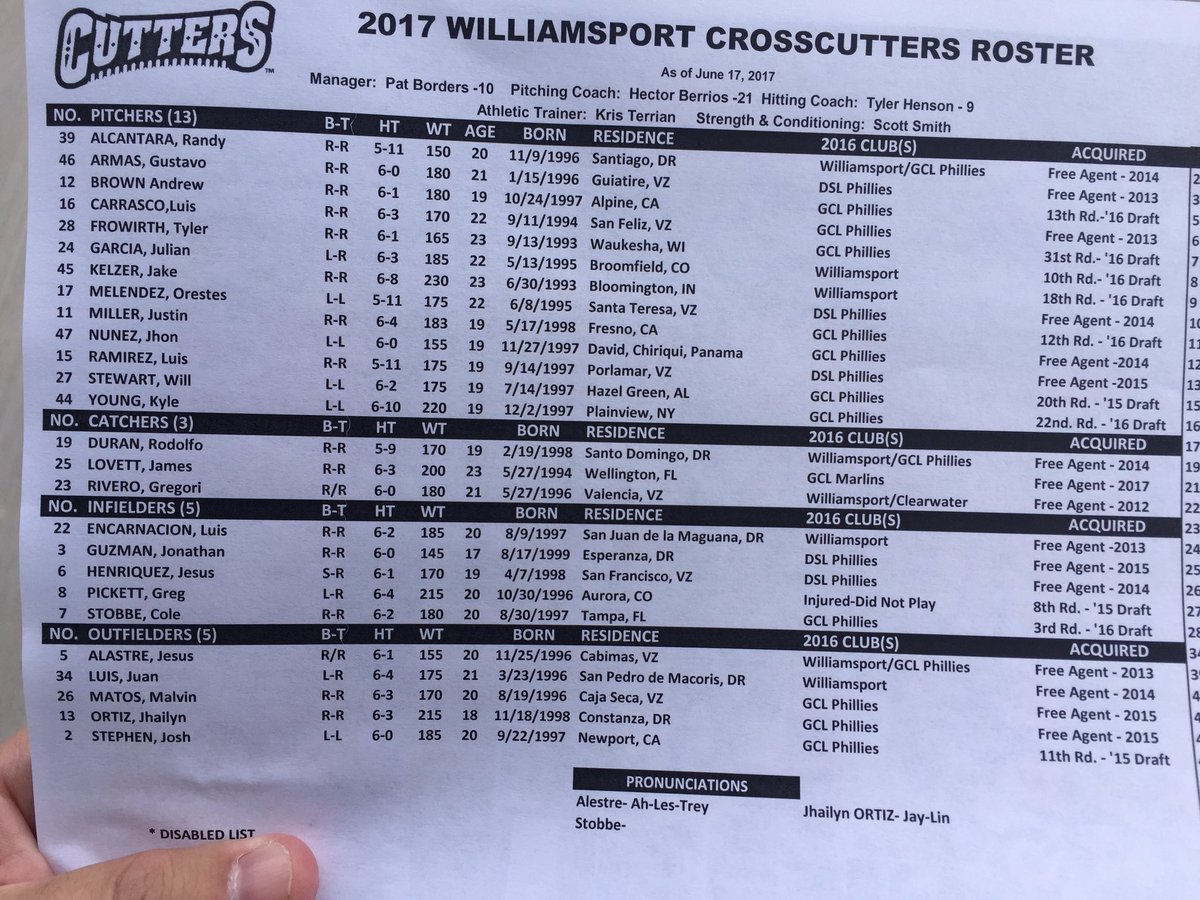 GCL Phillies (0-0) – first game on Monday, June 26th v. Yankees West.
Here's the affiliate scoreboard from MiLB.
Transactions (and paper moves):
6/16 – SS Angelo Mora assigned to Lehigh Valley IronPigs from Reading Fightin Phils
6/16 – Reading Fightin Phils activated 3B Harold Martinez from the 7-day disabled lis
6/16 – 3B Jan Hernandez assigned to Williamsport Crosscutters from Clearwater Threshers
6/16 – LHP Cole Irvin assigned to Clearwater Threshers from Williamsport Crosscutters
6/16 – LHP Bailey Falter assigned to Williamsport Crosscutters from Lakewood BlueClaws
6/16 – RHP Ismael Cabrera assigned to Lakewood BlueClaws from Williamsport Crosscutters
6/15 – Williamsport Crosscutters released 1B Alex Wojciechowski.
6/14 – RHP Jacob Waguespack assigned to Clearwater Threshers from Lehigh Valley IronPig
6/14 – LHP Cole Irvin assigned to Williamsport Crosscutters from Clearwater Threshers
6/13 – Phillies traded LHP Joely Rodriguez to Texas Rangers for Player To Be Named Later
6/13 – OF Osmel Aguila assigned to Lehigh Valley IronPigs from Reading Fightin Phils
6/13 – LHP Tom Windle assigned to Reading Fightin Phils from Williamsport Crosscutters
6/13 – 3B Jose Antequera assigned to Reading Fightin Phils from Williamsport Crosscutters
6/11 – Phillies activated RHP Joaquin Benoit from the 10-day disabled list.
6/11 – Phillies placed 2B Cesar Hernandez on the 10-day disabled list. Strained left oblique
6/11 – RHP Sixto Sanchez assigned to Lakewood BlueClaws from Williamsport Crosscutters
6/10 – Jacob Waguespack assigned to Lehigh Valley IronPigs from Clearwater Threshers
6/10 – Colton Murray assigned to Lehigh Valley IronPigs from Reading Fightin Phils
6/10 – Tommy Bergjans assigned to Reading Fightin Phils from Phillies Ext. Spring Training
6/10 – RHP Jose Taveras assigned to Clearwater Threshers from Williamsport Crosscutters
6/10 – Ismael Cabrera assigned to Williamsport Crosscutters from Lakewood BlueClaws
6/9 – Phillies traded 3B Taylor Featherston to Tampa Bay Rays for cash
6/9 – Lehigh Valley IronPigs placed LF Roman Quinn on the 7-day disabled list retroactive to June 8, 2017
6/8 – Phillies designated LHP Joely Rodriguez for assignment
6/8 – Phillies selected the contract of RHP Casey Fien from Lehigh Valley IronPigs
6/7 – LF Jiandido Tromp assigned to Reading Fightin Phils from Lehigh Valley IronPigs
6/7 – 1B Brock Stassi assigned to Lehigh Valley IronPigs from Reading Fightin Phils
6/6 – RHP Ranfi Casimiro assigned to Clearwater Threshers from Reading Fightin Phils.
6/6 – RHP Tyler Frohwirth assigned to Williamsport Crosscutters from Clearwater Threshers
6/6 – LF Enmanuel Garcia assigned to Lakewood BlueClaws from Williamsport Crosscutters.
6/5 – Phillies optioned 1B Brock Stassi to Reading Fightin Phils
6/5 – Phillies recalled RHP Nick Pivetta from Lehigh Valley IronPigs
6/5 – RHP Jose Taveras assigned to Williamsport Crosscutters from Clearwater Threshers.
6/5 – LF Cord Sandberg assigned to Clearwater Threshers from Lakewood BlueClaws.
6/4 – Lehigh Valley IronPigs placed RHP Zach Eflin on the 7-day disabled list retroactive to June 3, 2017