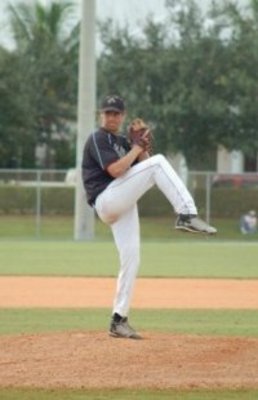 Name: Braden Shull
Position: LHP
Bats: LH
Throws: LH
DOB: May 8, 1993
Height: 6′ 6″
Weight: 215
Acquired: Drafted in the 27th round (#841 overall) in the 2011 draft, $137,500 signing bonus
Pre Draft Report:  Shull is a very raw pitcher with tons of projection.  He has almost no feel for his offspeed pitches and his fastball only sits 88-90 right now but has very good sinking movement, but his 6′ 6″ frame suggests that he could add velocity as he fills out.  As an amateur Shull had good command for a pitcher of his size.  Shull is committed to Kansas State and any team drafting him will have to pay to get him away to go pro.
Career Synopsis: Due to being a late overslot signee Shull only pitched in Instructional Leagues in 2011.  His 2012 was cut short by injuries and he only made one appearance in relief where he struck out two batters in one inning.
Scouting Report: Below is an assessment of Shull's raw tools, rated on the traditional 20-80 scouting scale. The grades are my estimation based on what I've read and those I've talked to. The second number is a future projection, the first number is the current assessment
Arm Strength: 50
Fastball: 50
Control: 40
Command: 40
Mechanics: 40
Durability: 30
Secondary Pitches: 40
Summary:  There is not enough post-draft information on Shull to put any further projection on his arm.  Shull has the frame to dream on plus velocity, but he has not stayed healthy long enough to really show if there is plus velocity there.
Upside:  Even though Shull has only pitched one inning in two seasons he is not a non-prospect.  Next year will make or break him as a prospect going forward as he will need to be healthy to have a future, however 2012 will be his age 19 season so if he only makes it to Williamsport he will still be age appropriate going forward.  Depending on injuries going forward he could end up in the bullpen sooner rather than later.
Videos:
Articles
Profile updated: 10/24/2012